Macungie Antique Truck Show 2009
Mack #4 Visits the 30th Annual Antique Truck Show held at Macungie, PA.
This website including all photographs and text is protected under 'US copyright laws' and can not be duplicated in part or whole in any form whatsoever, without the written permission of the owner.
photographs property of JC McHugh collection
Mack #4 was displayed at the 30th annual Antique Truck & Equipment Show in Macungie, PA on June 19th & 20th. The engine was hauled on a special lowbed trailer from the McHugh site in Fairless Hills on a wet Thursday afternoon, June 18th
The show guest that visited our display of Mack #4 have encourage us to attend more of these type of events. The visitors nice comments regarding #4 are what has us returning to these historical railway and equipment gatherings. As during the two shows that we previously attended in 2008, so many times did we here from people. 'It's the best display peice at the show', 'wow we never knew Mack built locomtives', 'this is really cool', 'we want to thank you for bringing this to the show'.
While at the show, Jimmy McHugh was reunited with many old friends and also made some new ones. Ann & JC McHugh talked with many friendly people regarding Mack #4's history and what is involved to get it to a show event.
A few photo's were displayed of Mack #4 when it operated at the WK&S railroad and brochures for the all volunteer operating heritage rail line were available.
.
JC McHugh drives the 75 foot long tractor trailer hauling #4 into Macungie, PA. photo - Adam Christman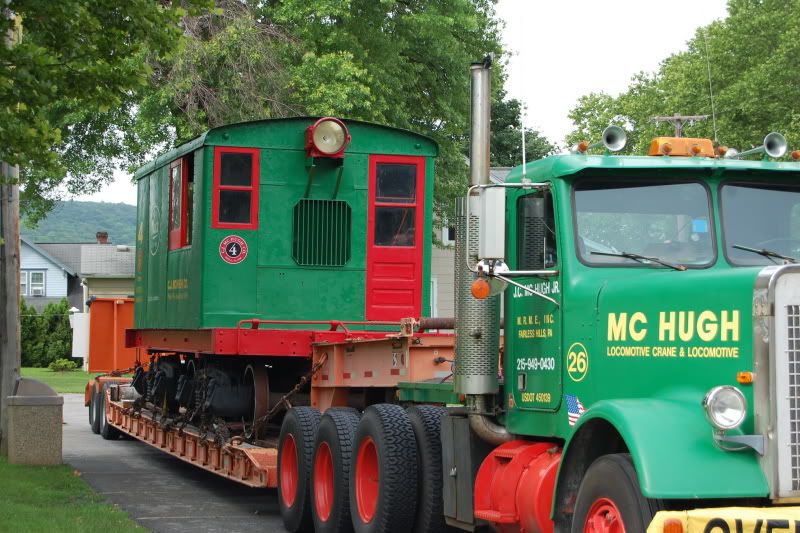 Another rare peice of equipment is the McHugh's 4 axle 1983 Freightliner tractor. The unit was built as a large dump truck to haul coal, but converted by JC McHugh into a heavy haul tractor in 1985. photo - Adam Christman
Did we say, anybody want some moonshine?! 1920's Mack flatbed truck. photo - Ann McHugh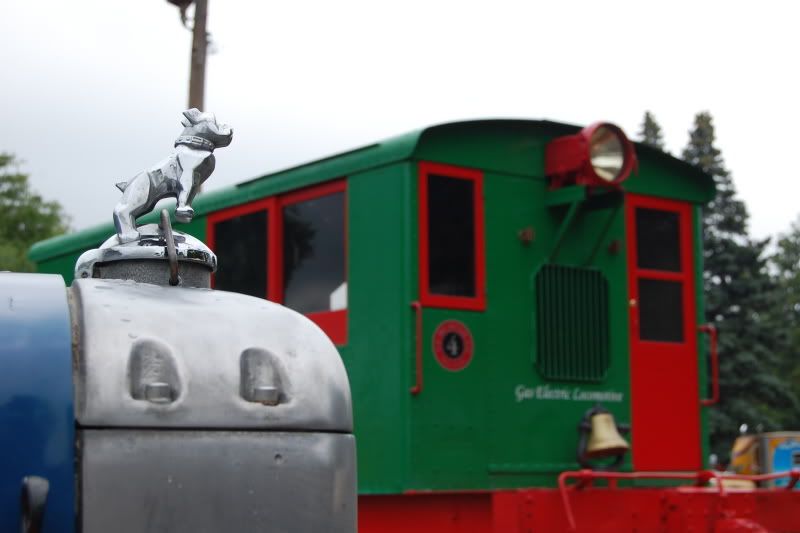 The Mack company old BULLDOG, photo - Adam Christman
On the cab of a truck was this railroad scene. photo - Ann McHugh
More of the antique trucks in the field area. photo - Ann McHugh
The large information board with #4's history and many old photographs. JC McHugh is seen talking with some of the shows visitors. photo - Adam Christman
A side veiw of #4, it was at the entance of the show. In the back ground are some of the 500 trucks that were displayed at this years show. photo - Adam Christman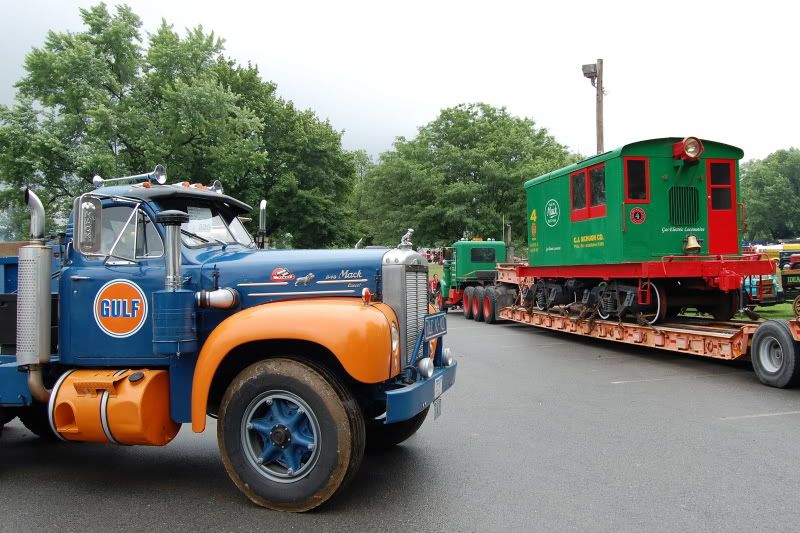 A 1950's Mack tractor is placed next to Mack locomotive #4. photo - Adam Christman